Invisalign clear aligners

allow the teeth to be realigned into a perfectly straight smile, without the use of traditional metal braces, brackets, and wires.

One aspect of cosmetic dentistry that adults and teenagers both fear is the idea of braces, especially the traditional metal ones. The gluing of brackets and wires onto the teeth can be very negative on both a person's self-esteem and confidence, to the extent that they would rather refuse the treatment, than have it.


A Stunning Smile with Invisible Aligners

An Invisalign is a see-through, almost invisible, plastic tray that sits in the mouth comfortably. It is a great, pain less alternative to traditional braces. Here at San Francisco Dental Arts we are excited to be able to give our patients the confidence they need through Invisalign clear aligner trays.


Can I Get Invisalign?

The first step in receiving your Invisalign aligners in San Francisco is your initial consultation. A consultation with our dentists at San Francisco Dental Arts will help determine your eligibility for Invisalign.

Next, our team will use a digital scanning system to create a precise model of your teeth. Now, we will be able to map out your individual treatment plan so that your aligners continue to fit snugly and prevent discomfort. This will include the exact movement of your teeth and how long your Invisalign treatment will take.


What Is Invisalign?

Invisalign is a well-known, advertised, and popular form of cosmetic dentistry. Invisalign can be used to treat misalignment of any kind including teeth with spacing issues, underbites, or overbites.

A virtually invisible treatment for straightening your teeth, Invisalign uses a series of clear removable aligners that are custom fit to your mouth that shift your teeth gradually. A better smile and a shorter treatment time are why many patients choose Invisalign to achieve their smile goals.


The Invisalign Process

When you come in to see one of our dentists, they may recommend the use of braces in order to straighten your misaligned teeth. There are many benefits, beyond the cosmetic reasons, to have your teeth realigned.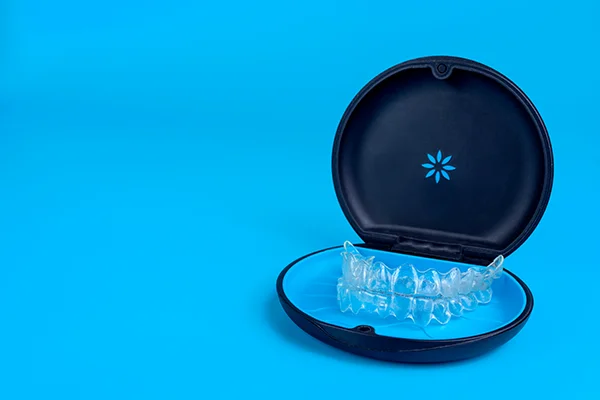 Invisalign Trays
One of our dentists will take 3D scans of your teeth and bite, in order to assess your individual case. The average time it takes to realign your bite using the Invisalign system is 12-18 months, but each individual case varies in how long treatment will take.

During your appointment, we can show you exactly how your teeth should look once your treatment is finished, and the stages required to get there.
Invisalign Treatment Process



The dentist will then give you your first set of retainers. You will be given a series of clear aligners, between 12 to 48 retainers throughout your realignment plan. You will wear each set for two weeks. Each set of aligners will gradually shift your teeth. The dentist will give you three to four Invisalign sets at a time, and you will come back for regular appointments every six weeks.



It is important to remember to let your Invisalign work, the aligners must be worn for a minimum of 20-22 hours a day. To clean your aligners, simply use a toothbrush and brush them with a small amount of your normal toothpaste.


Get Straighter Teeth and A Confident Smile With Invisalign San Francisco

Invisalign retainers are generally more expensive than other alignment methods, although the cost varies between each professional and individual case. You can talk over the cost, payment and insurance plans with our dentists, as plans can be quite flexible.


The Benefits Of Invisalign

The main benefits of Invisalign are in its clear, see-through mold, which allows the retainer to go undetected while simultaneously improving and straightening your smile. Its other main benefit is the ease of wearing the retainer. It is easily removable, which is ideal for eating, as well as cleaning. The retainer will likely take some getting used to, but not to the same extent as traditional metal braces or retainers.

In addition to the ease and look of the retainer, patients have a reduced risk of grinding or chipping teeth or any damage to gums that could have been caused by teeth protruding at awkward angles. Patients have found it easier to eat and chew food, as well as ease with talking and oral care habits, since the Invisalign aligners can be removed during meals and to brush and floss.



Traditional Braces vs. Invisalign: The Best Treatment Option

Not only is Invisalign the most aesthetically pleasing treatment for misaligned teeth, but Invisalign also offers the fastest treatment for crooked teeth. Invisalign when compared to metal braces is also the most comfortable treatment for misalignment because the aligners are both smooth and removable.

Invisalign also offers the most convenient treatment for straightening your teeth because visits to the dentist or our dental office are only necessary every six weeks, much less often than with traditional orthodontics or braces. Using biweekly aligner changes that help you achieve your desired outcome, you can achieve your new smile faster than ever.

It is important to note that adults will need to wait a bit longer than two weeks between aligner changes and adolescence is the best time for orthodontic practices.


Get Your Dream Smile With Invisalign Treatment in San Francisco

If you have misaligned teeth, and want to boost your confidence with a great smile, San Francisco Dental Arts offers Invisalign clear aligners for people looking to enjoy the benefits of braces, without anyone knowing you are undergoing orthodontic treatment or ever had them.


Schedule Your Invisalign Consultation Today!

Call us at 415-854-9396 to talk to our experienced dental care team, or visit our office today! For your convenience, we have also collected some of the most frequently asked questions regarding Invisalign.