TMJ/TMD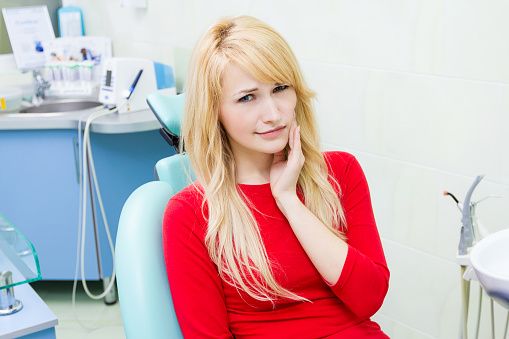 The temporomandibular joint, commonly known as the TMJ, is one of the most complex joints in the body. The temporomandibular joint (TMJ) is the joint that connects the top of your jaw to the bottom of your skull. There are two TMJ's in the head, one on each side, just in front of the ears. Because the TMJ is so delicate, problems chewing, speaking, yawning, and smiling may easily arise. TMJ problems can prevent you from moving your jaw forward, backward, upwards, downwards, and side-to-side.

The joint can be susceptible to complications, under the umbrella term temporomandibular disorder (TMD), the severity of which can differ between mild to excessive pain. TMD can cause several painful symptoms. Many of these symptoms may worsen over time without proper treatment. We recommend scheduling an appointment with Dr. Stanley Siu here at San Francisco Dental Arts if you believe you may be suffering from TMD.

Most commonly, TMD happens when the disk that protects the jaw and skull from grinding against each other slips out of place. TMD is fairly common, and can happen to anyone, although women appear to get TMD more than men. TMD has a range of different treatments, depending on the severity of the TMD. At San Francisco Dental Arts we can advise you on the best course of action for your TMD.


What Is Temporomandibular Disorder?

TMD happens when the temporomandibular joints do not function as they should, affecting the jaw muscles and nerves. It is not entirely clear what causes TMD, and some of the stated causes could be complications as a result of TMD.

Previously mentioned is the movement, or in some cases erosion, of the protective disk. Other causes include damage to the cartilage due to arthritis, a heavy impact to the joint, or prolonged pressure to the joint, through other conditions such as bruxism (teeth grinding).

Symptoms of TMD range depending on the cause, which is often difficult to recognize. Pain in the face and jaw, particularly around the ears, or while eating, is a common symptom of TMD. Jaw muscle fatigue or locking of the jaw can also indicate TMD. If you feel any of these symptoms, book an appointment with us so we can help.


Signs and Symptoms of TMJ Problems

TMJ problems affect everyone differently. TMD also shares several symptoms with other conditions like bruxism (teeth grinding), sinus problems, and arthritis. This can make it difficult to pinpoint the cause of any one symptom. For this reason, many people need the help of a medical professional to determine if their symptoms are related to TMD.

The most common signs and symptoms of TMJ problems include:

| | |
| --- | --- |
| • | Pain in the jaw joint |
| • | Pain or tenderness in the muscles around the jaw |
| • | Clicking, popping, or grating sounds coming from the jaw joint |
| • | Trouble chewing, speaking, or otherwise opening and closing the mouth |
| • | A tired feeling in the face |
| • | A sudden change in the way your upper and lower teeth fit together |
| • | Immobility of the jaw (lockjaw) |
| • | Shoulder and neck pain |
| • | Earaches, headaches, or migraines |
| • | General aches of stiffness in the face or jaw |
Possible Causes of TMJ Problems

The TMJ is a system of ligaments, bones, muscles, and cartilage that acts like a sliding hinge. Parts of the bones are covered with cartilage and separated by a small shock-absorbing disk.
If any one of these components is not functioning properly, a painful TMJ disorder is likely to occur.

It may be difficult to determine the exact cause of your TMJ problems. However, common causes include:

| | |
| --- | --- |
| • | Disk erosion |
| • | Arthritic damage to the cartilage |
| • | Joint damage caused by trauma or injury |
| • | A malocclusion or misaligned bite |


There are several risk factors for TMJ disorders, as well. You may be at a greater risk for TMD due to:

| | |
| --- | --- |
| • | Chronic bruxism or jaw clenching |
| • | Various types of arthritis |
| • | A past injury to the jaw or face |
| • | Certain connective tissue diseases |
Diagnosing TMD

A proper diagnosis for TMD is the first step in relieving painful and problematic symptoms. During your consultation, we will perform a comprehensive exam to determine if your symptoms are related to TMD. Dr. Stanley Siu will look, feel, and listen for potential problems. We may also take digital x-rays or CBCT scans to gather a more detailed understanding of your teeth, jaw joint, and underlying bone.


Treatment

TMD is often short-lived and so going easy on your jaw can often lead to an improvement of your condition. Taking over-the-counter pain medication and eating soft foods can help ease symptoms. Our dentists can teach you helpful jaw exercises to ease any stiffness felt. If you are participating in any contact or object sports, a brief break from those will decrease the risk of further injury. Avoid chewing gum or biting your nails as this can put unnecessary strain on your TMJ.

If non-invasive treatment does not seem to be working effectively, there are a number of different procedures that can solve TMD. Crowns can be used to realign the bite of your teeth, if your bite is causing your TMD. This can also be done through filing your teeth. Surgery can take place to open up the joint and resolve the issue in a more direct way. This is only done, however, if non-invasive treatment is not possible.

San Francisco Dental Arts offers a range of different treatments for TMD and is happy to accommodate your jaw pain in any way we can. If you begin to feel jaw pain, avoid strenuous exercise of the jaw and allow it to relax. If the pain does not subside, please get in touch with us so we can help.


When to Visit Our Office

Problems with your TMJ may require extensive treatment or go away on their own. It varies from patient to patient. Regardless, seeking the help of a professional may be the first step towards a healthier jaw. If you have any of the symptoms listed above, we recommend visiting our office as soon as possible.

Call 415-854-9396 to schedule your initial consultation today. If you're feeling jaw pain, and want to know more about TMD, please contact us now at 415-854-9396 and we can book you an appointment.