Dental Implants in San Francisco, CA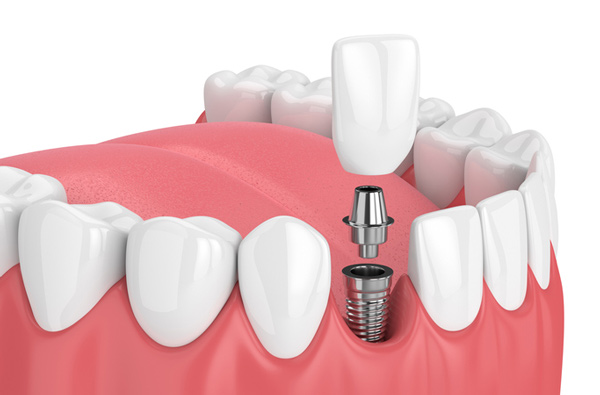 A dental implant is an artificial tooth root, usually made out of titanium, that allows you to attach replacement teeth. It is an alternative solution to dentures or dental bridges especially when no natural teeth are available. Dental implants provide the mouth with a number of benefits. Having dental implants attached involves surgery, but they can last approximately 25 years, longer than other artificial teeth.

Our professional dentist highly recommends them for replacing missing teeth here at San Francisco Dental Arts. The dental implant is made up of three parts. The implant itself is placed inside the jawbone. The abutment is secured into the implant and the crown is placed on top of the abutment.


Implant Procedure

We will take a digital x-ray and have 3D images taken, along with models of the teeth so they can examine the teeth properly in preparation for the procedure. A dentist will talk the procedure over with you. Whether you're having multiple dental implants or not, you will need multiple surgeries. The dentist will create a plan of your surgery dates, accommodated to your preferences. They will also talk to you about what type of anesthesia for the procedure will best suit your treatment. The actual procedure involves the drilling of a hole into the upper or lower jaw, in order to insert the implant. If the bone is not thick enough, a jawbone graft will have to be made to create a strong base for the implant.

Once the implant is in place, several months will have to pass before the denture and abutment can be placed in, as the bone must grow around the implant to ensure the implant is properly attached. In this way, the implant becomes a proper root for your artificial tooth. A temporary denture will be provided. The abutment placement is a far more minor surgery, and involves the reopening of the gums to place the abutment in. The gums are then resealed around the abutment and an additional two weeks must pass to allow the gums to heal. More impressions will be made of your oral cavity for the construction of your artificial tooth. One of our dentists can talk you through the different options available for your artificial tooth, as both removable and fixed teeth are available.


Dental Implant Benefits

As mentioned before, dental implants last longer than dental bridges or dentures by around 10 years. Dental implants change the structure and feel of your mouth less than dentures do. The amount of plastic involved in a denture, and the way they feel in the mouth, is less like a normal mouth. Dental implants feel normal in the mouth in comparison. Dental implants improve appearance, as they will fill any gaps in the smile, and are less distinguishable compared to other tooth restorations. Dental bridges can require the shaping and filing of neighboring teeth, whereas dental implants do not.


Types of Dental Implants

There are several different types of dental implants available, depending on how many missing teeth you have and would like to replace.


Implant Supported Dentures

Implant supported dentures have few of the drawbacks that conventional dentures do. Because they are anchored to fixed implants it is almost impossible for them to slip and slide around in your mouth. That means no more clicking, no more fear of chewing or biting down on tough foods, and no more awkward speech mishaps when loose dentures cause you to slur your words. Implant supported dentures are also more comfortable and less likely to irritate patients who gag easily. While implant supported dentures might seem like the more expensive option, their superior durability means that they do not wear out as often and do not erode your gums, necessitating further treatments down the line. This means that in the long-term they are often more cost-effective.


The All-on-4® Treatment Concept

With traditional fixed dentures, you should expect to have more than four dental implants. This means a more invasive surgery and, potentially, a longer healing process since there will be more dental trauma. All-On-4 is a specific type of implant treatment that is able to support a full set of fixed dentures on just four implants. These take far less time to complete than regular fixed dentures. These are also easier to maintain, feel more comfortable, and look better overall.


3 on 6 Dental Implants

While not as common as All-on-4 dental implants, there are also what are called 3 on 6 dental implants. As the name suggests, there are three dental implants on the top row and six on the bottom row. They are used to replace missing teeth or to stabilize dentures. Unlike traditional dental implants, which require two surgeries, these can be done in a single visit. This makes them a popular choice for people looking for an affordable and convenient option. The 3 on 6 dental implants are comparable to other dental implants in terms of longevity.

San Francisco Dental Arts offers a range of different methods to restore your smile. Contact us at 415-854-9396 and ask us about the range of artificial teeth placements we have on offer. No one should be embarrassed by their oral appearance and we can give you back the confidence you need.

For more information, check out our Dental Implant FAQ!