Oral Cancer Screening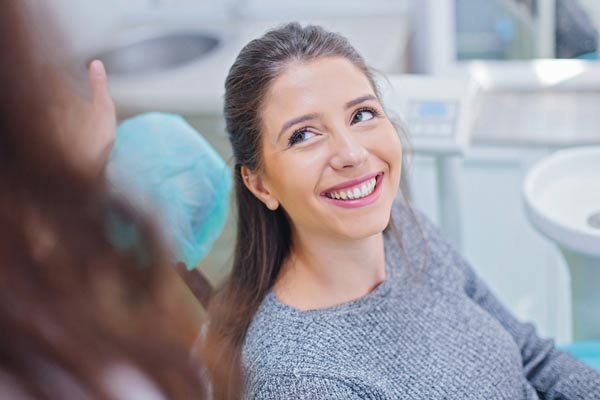 An oral cancer screening is a precautionary procedure to investigate whether a patient shows any early signs of oral cancer. At San Francisco Dental Arts you may be advised to have a screening by one of our dentists. This may be because of your medical history or lifestyle choices, such as smoking, drinking or extended sun exposure without the use of sun screen. You can also book if you're concerned about the possibility of developing oral cancer.

It is important if you find any abnormal lumps or masses to contact us for an appointment. Late screenings for mouth cancer decrease the chance of eradicating it.

Regardless, oral cancer screenings are very simple and nothing to worry about. The screenings can help investigate anything possibly cancerous in the mouth, and ensure it is tackled early on in its development.


During the Screening

When a dentist is performing an oral cancer screening, they will not only check the oral cavity, but also the areas around the face: under the chin, the cheeks, inside the nose and lips. The screening is physical: the dentist will touch your face to feel for any lumps or abnormalities. When examining your oral cavity they will use a light, mirror and tongue depressor for a thorough exam.

The dentist may use some other dental equipment, such as dyes, to indicate any abnormalities in the mouth. Sometimes a special blue light called a VELscope is used to show the oral cavity tissue in different colors to differentiate healthy and unhealthy tissue.


After the Screening

The screening is also a time to discuss with us if there are any concerns or anxieties you have regarding your dental health, especially with oral cancer. They can advise you on how to reduce the risk of oral cancer, and how to maintain good oral health.

If the dentist does find something abnormal, they will most likely ask you to come back for further screenings and tests. They may perform a biopsy in order to remove some cells for testing, or refer you to a specialist. A lump does not necessarily mean it is cancerous and may prove to be benign. The dentist will ask about discomfort or pain felt in association with any unusual masses found, although this cannot always be indicative of whether the lump is cancerous.


Home Care

Talking to us about changes to your lifestyle, especially in relation to your medical history, can be effective in reducing your risk of developing oral cancer. We can advise you on proper flossing and toothbrushing techniques to effectively remove plaque and maintain good oral health. A reduction in smoking and heavy drinking can also reduce the chance of oral cancer.

Furthermore, some types of human papillomavirus (HPV), transmitted through oral sex, have been shown to increase the risk of oral cancer.

One of the easiest ways to ensure oral cancer is caught in the early stages is to attend your regular dentist appointments, so we can monitor your oral health regularly.

If you're concerned about oral cancer, you can book a screening with us here at San Francisco Dental Arts, contact us at 415-854-9396.