Dental Implant FAQ in San Francisco, CA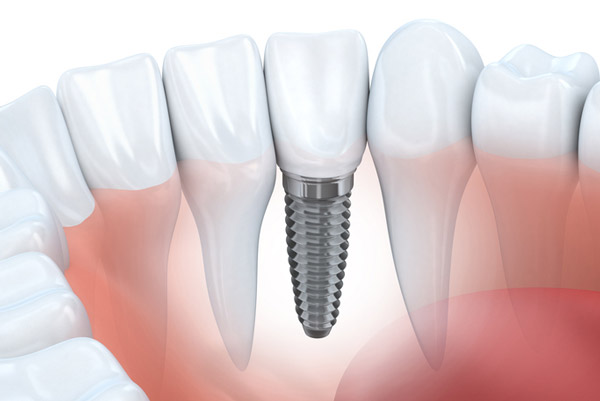 Do you have damaged or missing teeth that keep you from enjoying life to the fullest? You can get dental implants at San Francisco Dental Arts. We offer single and multiple implant procedures and seamless tooth extractions. Dr. Stanley Siu at our clinic will walk you through the procedure and answer all your questions.


What Are Dental Implants?

A dental implant is a tiny titanium post or prosthetic that replaces the root of your missing tooth. Dr. Stanley Siu will insert dental implants into your jawbone and place crowns on top of them to replace your missing teeth. The implant is supposed to fuse with your bone over several weeks or months before we can place the permanent crown on top. Since the titanium implant melds with your jawbone, it will not slip, cause bone damage, or make noise.


What Does the Dental Implant Procedure Entail?

At San Francisco Dental Arts, we start the procedure with a thorough exam of your jawbone and the area around the site. Then, we use a local anesthetic, cut away the gum, and drill into the jawbone to place the titanium stud. The implant will take at least three months to fuse with the surrounding bone and become part of your natural gum line. Once that's done, we will put an abutment on top of the implant and tighten it so it stays in place. Lastly, we will use cement to glue down a permanent crown or artificial tooth on top of the abutment.


Does the Dental Implant Procedure Hurt?

The dental implant procedure is relatively straightforward and involves using a local anesthetic to numb the area. You might experience slight discomfort, which varies from person to person, but you will not feel any pain. If you experience pain, let us know so that we can use more of the local anesthetic. Moreover, we will give you antibiotics and painkillers after the procedure to ensure you don't develop an infection or feel pain.


How Long Does a Dental Implant Procedure Take?

The length of the procedure depends entirely on the complexity of the case. That said, we can place a single implant in around an hour. Factors that can increase the length of this procedure include your oral health, which tooth requires replacement, the number of teeth that need to be replaced, your bone density, and if you need a tooth extraction before the procedure. Moreover, since we perform the entire process in two stages - the implant placement and abutment and crown placement, it will take at least three to nine months.


What Are the Benefits of Dental Implants?

Here are some undeniable benefits of dental implants:

| | |
| --- | --- |
| • | They replace your missing teeth |
| • | Implants are durable and can last a lifetime with good care |
| • | They look like normal teeth and improve your appearance |
| • | Since they are made of metal, dental implants do not decay |
| • | They enhance your ability to bite, chew, and eat the foods you like, improving your quality of life |
What is a Single Tooth Implant?

As the name suggests, a single-tooth implant is when we replace a single missing or extracted tooth with an implant and place the tooth-like crown on top to provide the appearance and function of a tooth. However, you will need multiple teeth implants if you have multiple missing teeth. They are the same as single-tooth implants barring one difference. We can place these dental implants in the jaw with individual crowns or a bridge with multiple crowns. The latter is the ideal solution if you have lost two to three teeth and need to restore function.


How Do I Find Out if I am a Good Candidate for Dental Implants?

You can visit San Francisco Dental Arts for a thorough oral examination and jaw x-ray to determine if you are the ideal candidate for dental implants or not. People with a single or multiple missing teeth can get dental implants. You must have good oral hygiene and adequate bone density to support the dental implant. Moreover, your gums should be healthy and without periodontal disease.
You will be a good candidate for dental implants if you:

| | |
| --- | --- |
| • | Have missing teeth |
| • | Have optimal oral health and good bone density |
| • | Don't smoke or have quit smoking |
| • | Have healthy gums |
| • | Don't have a medical condition that will keep your implant from fusing with your bone |
What to Expect From Tooth Extraction Before Dental Implants

You will need a tooth extraction if you need to replace your damaged tooth with a dental implant. We will administer a local anesthetic, and then Dr. Stanley Siu will use an elevator to loosen your tooth. Then, we will use forceps to pull the loose tooth from the gums. You might feel pressure or discomfort without any pain due to the anesthetic. We will place a gauze pad over the site to control bleeding and instruct you to bite on it for about 20 minutes.

However, if your tooth requires surgical extraction, we will administer the anesthetic and make an incision in your gums. If we cannot access the tooth root due to the jawbone, we will remove part of the bone and extract the tooth. Then, we will assess the site to see if you still have healthy gums and sufficient bone density to place the implant after the tooth extraction. Alternatively, if you have severe bone loss, we might need to place sutures to close the wound and allow it to heal. Then, we will have to perform a bone grafting procedure before putting the dental implant.


How Should I Care for Dental Implants?

Once you get your dental implants at our clinic, we will provide you with all the necessary information to care for them. Even though these implants will never decay, the gum tissues around them can get infected if you don't maintain proper oral hygiene. It's why you must care for them how you would for your natural teeth. Brush and floss daily and visit San Francisco Dental Arts for regular dental checkups and yearly professional cleanings.


Visit San Francisco Dental Arts for a Dental Implant Procedure

If you have missing or damaged teeth, visit San Francisco Dental Arts for dental implants. Dr. Stanley Siu will assess your teeth and bone density and perform the procedure and appease all your concerns. Contact us at 415-854-9396 to schedule your appointment today!