Digital Radiography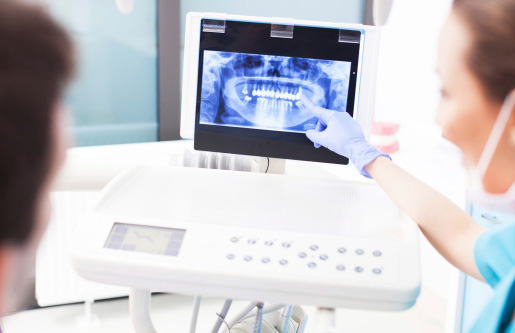 Digital radiography has become the conventional way of creating an x-ray, over the traditional film method that many patients may be used to. There are many benefits to the digital method, as it is quickly developed, safer for the patient, and more effective in showing us the information needed to detect oral problems. Here at San Francisco Dental Arts we use digital x-rays to resolve issues patients have quickly and properly.


Why Do I Need an X-Ray?

While getting an x-ray may prove to be uncomfortable, the results are really important to your oral health. They show the dentist your teeth, gums, and the bone structure surrounding the mouth, which may have an impact on your oral health. An x-ray can show the dentist bone and tissue that can't be seen by the naked eye. X-rays can pick up early signs of many oral complications, such as tooth decay, bone loss and wisdom tooth development. X-rays help prevent tooth loss and cavities before they become unpreventable.


Types of Dental X-Rays

There are two different types of dental x-ray: inside the mouth (intraoral) and outside the mouth (extraoral). Both types vary slightly depending on what the dentist wants to look at.

Intraoral has to have the digital x-ray sensor placed inside the mouth, and is the most common form of dental x-ray. Intraoral is used to look at the teeth, either the whole oral cavity, a specific tooth, or the upper/lower jaw.

Extraoral places the digital x-ray sensor outside the mouth, and is used to investigate the impact of the jaw and other bone structures around the mouth. Extraoral helps detect tumors or cysts, can be used to detect any abnormalities in the salivary glands, and shows your jaw alignment.


Benefits of Digital Radiography

One of the main benefits to digital x-ray over conventional x-ray, is that it uses up to 70% less radiation. It emits the lowest possible amount of radiation into the tissue of the mouth, making it safer for the patient.

Digital x-rays do not need to be chemically processed, they are instantly uploaded to the computer. The dentist can review them immediately and go through them with you without a waiting time. This is also beneficial for transferring the x-rays between dentist's offices, without the need to upload a physical scan.

Digital x-rays can also be enhanced on the computer with photo tools such as contrasting and zoom to help better show the dental scan. The grey-scale is also far greater in a digital radiography compared to the conventional method, making it a more detailed x-ray scan.


How Often Will I Need an X-Ray?


The frequency of x-rays differs from patient to patient, depending on their dental records, and if there are any current underlying problems with their oral health. Children usually need more x-rays than adults, as their teeth are still developing and need to be monitored. New patients will need an x-ray to properly assess the condition of their teeth and gum, as well as patients who haven't visited the dentist's office in some time.

We understand that the idea of an x-ray unsettles some patients. At San Francisco Dental Arts you can always talk to our dentist before you have one done. Haven't been to the dentist for some time? Call us at 415-854-9396 to book your appointment now.