Dentistry for Kids

San Francisco, CA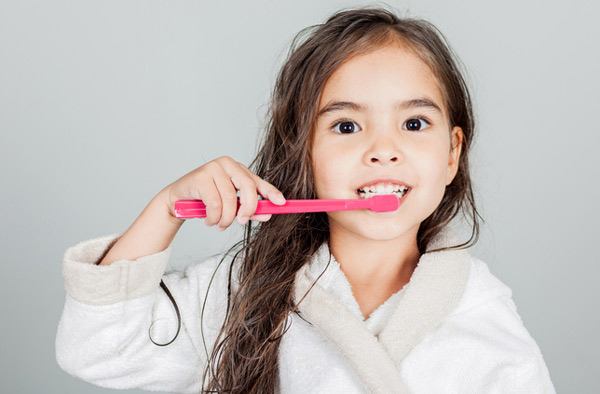 Teaching a child good dental habits is very important, as it could save them a lot of pain and problems further down the line. Proper brushing may seem like another task to add to the already overbearing weight of being a parent, but children can often be more liable to have oral complications than adults, as their teeth are still developing. At San Francisco Dental Arts, we're here to help you every step of the way with your child's dental development.


Home Care

There are many little things you can do as a parent to make sure your child is maintaining their oral health. This is very important, even from the start. Your child will develop their first baby teeth around the age of six months, and by the time they're one years old, the majority of their baby teeth will be developing.

Fluoride toothpaste is important to use as it helps prevent and control tooth decay. You must start brushing their teeth when they first develop a tooth. Just like for adults, brushing should be done for two minutes, twice a day, regardless of age. Children's toothpaste should have 1,000ppm of fluoride to ensure their enamel is properly protected. We want to avoid dental dental fillings by educating our patients, and having children develop a good oral hygiene routine at a young age. This can prevent unwanted cavities, fillings, and other dental treatments later on.

When your child is a little older, it is important to instruct them on the proper way to brush their teeth. If you're unsure yourself, schedule a dental exam, and we will be able to advise you. It is good if your child has a mirror in front of them, so they can monitor their own tooth brushing technique.

Supervising their teeth brushing is advised at young ages, as the use of proper brushing techniques will ensure good oral health. It is good practice to keep them stationary in the bathroom, as running or walking with a toothbrush can be very dangerous for children.

It is also important to tell your child not to rinse their mouth after brushing, as rinsing will decrease the effectiveness of the fluoride in the toothpaste, used to protect their tooth's enamel. It is advised that starting around the age of 12, your child should also begin to use floss as part of their oral hygiene routine.

We also recommend scheduling routine dental cleanings, to help ensure oral hygiene.


Why is Kids Dentistry Helpful?

Instilling quality and professional teeth cleaning and maintenance habits in children is extremely important. The foundation of our health is installed in these early years. Our body's future is somewhat decided during the formative years of our lives, which is why it is so important to give extra attention to the health of our kids. As kids are still learning the ways of life, they are more vulnerable to health issues. Their bodies are developing, so frequent changes take place which needs to be taken care of at every step. Kids' teeth are open to attack from germs, so a constant check is required to prevent damage.

While as parents, you can help your kids develop into healthy and responsible people, their teeth will need the attention and care of a specialist, who knows what is good or bad for children's oral health. Our professionals are available to lend a more helpful hand with a comprehensive treatment approach.

There are a lot of aspects that go into the decision to choose a dentist for your child. There is an option of sticking to the families preferred dental professionals, if you have one, because of the obvious familiarity and trust. A family professional also knows the family's dental history and then will be able to provide a better treatment and care plan based on this knowledge.

Our trained dental professionals are equipped with the knowledge of how to make kids more comfortable when they come in to visit the dentist. They know how to talk them into getting the procedure done and are qualified to know the number of anesthetics to be used in the safest possible manner. Furthermore, convincing children and taking the fear of dental treatment out of their minds is not an easy task and something that many parents are unable to do.

Good oral health care and correct habits form the foundation of a healthy adult life. Even the little things like maintaining proper oral hygiene through regular brushing and getting rid of habits like sucking their thumbs, can ensure the well being of teeth and face structure, so that your kids don't have to use braces or any other corrective dental procedure when they fully develop their permanent teeth.


When To Visit Us With Your Child

You should bring in your child to see us when their first teeth begin to show. The doctor can check if the child's teeth are developing as normal. From there on, regular six month appointments will ensure their tooth development continues in a healthy manner.

If they begin to feel any pain, or experience anything abnormal, such as swollen or bleeding gums, they should visit us immediately.

We can also advise you on how to develop good dental habits in your child and how to ensure they're brushing properly. Often, making the two minutes of teeth brushing fun can help ensure they maintain good oral health. An egg timer, or a two minute song, is an effective way for the child to not see brushing their teeth as a chore. Also, brushing along with them can make the activity more fun.

San Francisco Dental Arts understands how hard every parent works, and knows it isn't always easy balancing a child's development. If any issues arise with your child's oral health, or there's any uncertainty over the correct techniques for flossing or brushing teeth, please contact us. For more information on your child's oral health, contact us here at 415-854-9396.