What Are Dentures Made Of? San Francisco, CA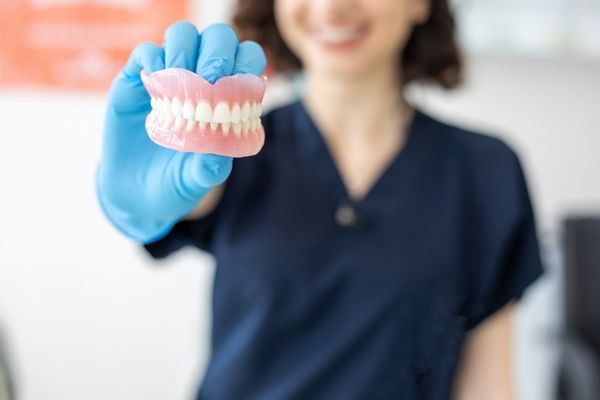 Dentures are one of the best restorative dentistry treatments for severe decay or missing teeth.

These help in restoring your ability to chew and talk while also improving your smile. However, before you make the decision to get dentures, consulting an experienced dentist is crucial and understanding more about dentures is integral.

San Francisco Dental Arts ensure all patients understand the dental procedure, cost, and the pros and cons of dentures. Our doctor, Dr. Stanley Siu will conduct thorough dental exams and assessment to determine if dentures are the best solution for you.


What Materials Are Used for Dentures?

There are different components of dentures, each made with different materials:


Materials Used in Denture Base

The base of the dentures is the foundation that offers strong support for artificial teeth. It is created by utilizing different impressions the dentist takes. Usually, the denture base is made with the following materials:

| | |
| --- | --- |
| • | Acrylic Resin: This creates the foundation for the denture, retains teeth, and provides support for the teeth. |
| • | Metal Base: Some dentures are made with a cast metal base for a stronger foundation. |
Materials Used in Denture Framework

There are two types of denture frameworks, partial and flexible dentures. The materials used in both are as follows:


Partial Dentures

These dentures are created with a metal base and are smaller as compared to acrylic or plastic dentures. These are matched with composite teeth to create a natural look and feel. These dentures are also costly since they are labor-intensive. Most partial metal dentures are created with:

| | |
| --- | --- |
| • | Base Metal Alloys: These are popular materials for framework since they are durable, stronger, and create a better fit. |
| • | Chrome Cobalt: This is another strong material that creates a firm framework. |
Flexible Dentures

Flexible dentures have better ergonomics and are more durable than others. Flexible dentures are often made with:

| | |
| --- | --- |
| • | Acrylic Resin: These are affordable but are not as strong as other materials. |
| • | Flexible Polymer: This is a kind of nylon with a flexible base that seamlessly blends with the gums, which makes it an ideal material for dentures. |
What are Replacement Teeth of Dentures Made Of?

No denture is complete without restored teeth to complete the natural look. The teeth on dentures are usually created with the following materials:

| | |
| --- | --- |
| • | Acrylic Resin: This material gets securely attached to the denture base and is easy to adjust and more affordable than other options. |
| • | Porcelain: These can easily be matched with the color of the natural teeth and look and feel more like them. |

The dentist might also use veneers for teeth that are slightly damaged but don't require proper treatment. These are usually great for covering cracks, stains, chips, or filling gaps between the teeth.

There are various options available for dentures made with different materials but the commonly used materials are highlighted above. It is ideal to consult the dentist to determine which material would be best for you and enhance your overall dental health.